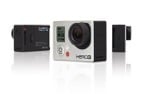 Nice article by Erik Sacino over at solargravity.com packed with mounting and video production tips for the GoPro Hero line of cameras.
ALWAYS tie a thin string to tether the camera to something secure. For example, if your camera is on the hood of a car, tie a string to the windshield wiper arm.
Here's the full article packed full of GoPro production tips.
In addition to Erik's clearly experienced tips, scroll down the page a bit for his great collection of GoPro tip videos. The Hero 3 Black Edition is my favorite little b-roll camera. It's got great image quality, is small enough that you can get away with shooting anywhere, and takes tremendous 4k time lapses. Always love finding good resources like this with new and creative uses for it.
Bonus find:
Tip 10: A great mounting solution for all types of situations is coupling the Pedco UltraClamp Assembly with the GoPro Tripod Mount. A FANTASTIC solution for under $30 which allows you to mount your GoPro and as a bonus any other camera to almost anything! The handy tripod mount attaches your quick-release GoPro camera to a standard 1/4-20 tripod stud which is the standard for most American cameras
I'm buying one now.